Time we looked for a new National Airline
Summer 2018 has been a memorable one for me.
The great Irish weather, the occasional music festival, an extended run in the All-Ireland series by Tyrone and a holiday to beat all holidays in France.
My first visit to France was part of a school 'exchange' programme when I was lucky enough to spend 4 weeks 15Km outside of Nice, flitting between Cannes, Antibes, San Tropez, Monaco and Le Promenade Des Anglais.
By way of return, the family who put me up in July 1982, decided that the 'climate' of the North at the time was unsuitable for a growing teenager and thus deprived a young Patrice Blanc of the highlights of Cookstown, Dungannon, Armagh and of course the Moy.
They were different times in the 1980s for sure.
Travelling abroad was a real luxury back then, regardless of the destination.
Flying was fun too.
Even with Aer Lingus.
Silver cutlery. Cloth napkins.
A wee bottle of red wine with breakfast. (I was only 16 too…)
The holiday genuinely began at the airport.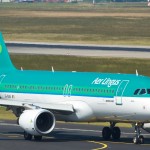 And the experience 36 years later?
Thanks to Easy Jet and Ryan Air, flying has become more affordable and Europe more accessible than ever before.
Silver knives and forks however aren't the only things sacrificed at the expense of wanderlust.
Aer Lingus, the national carrier, in their haste to catch up on their rivals, have not only binned the knives and forks but have completely overlooked their responsibility to treat their customers with the slightest bit of respect.
So, on this years trip to France, 5 hours after landing in Brittany, I find out that my bag has been mislead
Left in Dublin maybe, but no big deal – that's only a 2.5 hour flight, right?
The bag could or should have been with me the very next day but it wasn't until 4 days later that the errant luggage caught up with us.
Fair play to France and (my girlfriend) for keeping me pre-occupied with its beauty, culture, people and places because if I had left it solely down to Aer Lingus Customer Service I'd have shot myself.
For the record, I made almost 40 calls to the Customer Service number, which without much guess work, takes you to a panel of disgruntled teenagers in Mumbai who evidently hate working on behalf of Aer Lingus.
I should know better, right?
40 calls.
Call centre.
Mumbai.
I should know better and I did know better, but here are some of the facts that Aer Lingus overlooked then and I don't want you to overlook now:
– I was on a holiday that I had paid good money for
– Aer Lingus ship stuff around the world for a living
– all I wanted was a little but of empathy and understanding
– it is their fucking job
Anyway…day 4 and the bag arrives.
It is hard to explain the anxiety and stress caused by the loss of luggage.
Unless you have experienced it, it is hard to appreciate how much of an impact it has on your mood and enjoyment of the entire holiday experience.
Not forgetting the impact that has on your travel companion…
For years Ryan Air were viewed as the demon carrier – despised and loathed for the distain they showed to their customers.
Having had an epiphany, Michael O'Leary and his team have gone almost full circle, placing greater emphasis customer service than ever before.
Since reporting my baggage loss to Aer Lingus, I have made almost 40 calls to their Mumbai call centre, Tweeted directly to their customer service on countless occasions and have had my email correspondence put in a holding pattern by guestrelations@aerlingus.com for a month now.
Not once has there been a genuine attempt at resolving the issue.
They believe I should get reimbursed for reasonable expenses.
I believe that I should get reimbursed for reasonable expenses and compensated for the serious inconvenience and stress caused by their ineptitude.
Had they responded more respectfully at the start, I'd not be writing this.
I would have settled for expenses.
The lack of respect shown by the nation's national carrier towards people like me and as this Irish Times piece by Conor Pope shows, many hundreds, if not thousands of others, I think its only right to shine a light on their arrogance and ineptitude.
I have messaged Marc Giles, Head of Aer Lingus Customer Experience on 3 occasions but without reply.
I'll keep you posted.