Creating a winning culture in business – The Barcelona Way. Podcast with Damian Hughes
Create a winning culture in business, The Barcelona Way
Something about FC Barcelona has always resonated with me.
They have become more than just a favourite 'second team.'
Rich in tradition, heritage with a genuine social, cultural and political relevance.
An acceptable counter to the arrogance of Franco's Real Madrid.
The class geansai.
In their illustrious history, they have been managed by some of the most creative managers in history – Cruyff, Robson, Guardiola and their Irish Saviour, Patricio O'Connell, the Dubliner who also played for Belfast Celtic.
Only 7 teams have won a 'treble' (Champions League, League and cup) – Barcelona have won it twice.
Every player joining the club must learn Catalan.
In 2007/8 season under Guardiola, the club won 6 trophies.
It is through the lens of Guardiola that Damian Hughes narrates brilliantly, how The Barcelona Way: Unlocking the DNA of a winning culture can help businesses establish a high performance and winning culture.
This podcast is the third featuring Damian each time covering one of his many books on the influence of sport on business and building high performance teams.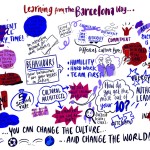 The Barcelona Way is already a best seller and with good reason.
Damian has the uncanny ability of de-mystifying the complex and his use of sporting metaphors appeals to the sports fan whilst not alienating those other readers – getting across his point effectively and with great clarity.
The podcast is available here on iTunes and below on SoundCloud.