Episode 15: Inside the BLK Box with Greg Bradley
Sales management training – a lesson with Greg Bradley
According to a recently published Neilson Sports report our appetite for fitness health and wellbeing will see the gym sector become the shining star of the post Brexit Economy.
Someone who is well prepared to take advantage of that market opportunity is CEO and founder of Belfast-based BLK BOX Fitness, Greg Bradley.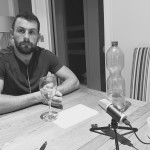 Beyond Belfast
For Greg and his team, the business isn't just about the gym industry in the UK and Ireland – the company has already established a solid reputation throughout the UK and Ireland in many of the major sports, including GAA, rugby and soccer and have already plans further afield with upcoming projects in UAE and mainland Europe.
This podcast has been a long time coming – I have known Greg for a few years now and have closely watched his progress within the fitness industry.
Relationships over ratings
Much of the brand's development has come from his ability to create and retain meaningful relationships with a wide range of people – influencers, decision makers both here in Ireland and as far as Australia. Driven and hardworking, his business is a shining example for anyone starting up on their own today.
If you are interested in picking up strategies in sales or interested in sales management training then you should enjoy this podcast.
BLKBOX has a business has flourished in a very short space of time, through tenacity, a lot of hard work and a focus to dedicated sales processes and operating engineering systems to the very highest standards.
If you want to find out more about his business or to connect directly with Greg, then visit www.blkboxfitness.com or get him on Twitter @gregbradley1988
Listen in on iTunes or below on Soundcloud