This month we took our first flight out of Ireland since March 2020, taking a long weekend in Paris, a city I had not visited since 1998.
France has become a favourite and treasured destination over recent years, having visited both Britany and the Languedoc regions since 2018. Nice was my first destination in 1984 when I enjoyed an imbalanced exchange programme – the French family were loath to send their child to East Tyrone at that time.
Fair play to them – was a good decision.
Years of propaganda courtesy of the English media would have us feel suspicious of the French. Well-travelled people would often suggest that the French food is exceptionally good whilst their customer service is exceptionally bad.
Treating people as you find them is a hard idiom to live by regardless of context but my experiences of life in France have been very good.
We arrived at our Hotel, Residence Henri IV in the Latin Quarter, early Thursday and evening, with nothing in particular planned until the following day we decided to go for a walk around the grid of streets that leads to the Sorbonne University.
Saved from the wrath of the Nazi invasion of WWII, the city still boasts most of its architecture from every era.
A palace on every corner and no shortage of restaurants – a real paradox of choice.
As a tourist it's hard to know what a good restaurant looks like – all the reviews in the world fail to take into account personal tastes, shift patterns for chiefs and good fortune.
Easy to see why some of the more familiar brands succeed, removing thought and any risk from the decision making process.
We had walked past a restaurant called CIASA MIA, admiring its wonderful façade, location and energy.
Judging a restaurant by its external décor makes the offence of selecting a book based on its front cover a mere misdemeanour.
We went back and looked at the window display and into the restaurant such was the intrigue – no Googling of reviews, Trip Advisor etc…mainly gut instinct and the fact that it was getting late and we were both hungry.
There's a point to this story which I will get to now.
The restaurant turned out to have a Michelin Star and offered a fusion of food from the Alpine countries.
And so we went in.
We were greeted by a lady who according to her dress was a waitress yet by her behaviours and attitude seemed heavily invested in the business.
When we explained that we had been walking through the area and had decided on their restaurant based on what we had seen outside, she couldn't contain her surprise and said
"So you are prepared to trust us?"
And yes we were prepared to trust her and the team in the kitchen.
It didn't feel like much of a risk to be honest, Bibendum or not.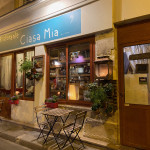 Ultimately all transactions where you are given a choice are based on trust.
In Paris there are 1000s of restaurants – famous, infamous, unknown.
On that street alone there were maybe another 3 for us to choose from and the wider university area would be as well served as any.
It was telling that she recognised all of this and was able to, in one sentence, reassure us that we had made the right decision.
No fuss or drama about table availability.
Polite from the first moment.
Empathetic.
Courteous.
Charming.
Professional.
There was a limited choice from the menu – 2 options of a taster menu, either a 5 or 7 course.
Take it or leave it.
The food was stunning.
The service was 5*.
Once she had put 'trust' on the table, then it was down to her and colleague in the kitchen to deliver. She had spoken openly of the contact between us and them, simply, you are putting your trust in us and in return we will deliver on our brand promise.
Shouldn't that happen every time you buy from someone, or someone buys from you.
There are always alternatives but they chose you?
The price?
Not what you'd think but definitely worth it.