Going back to basics can help you disrupt and differentiate
How customer service training can help differentiate your business.

'Whenever you see a successful business, someone once made a courageous decision.'
Up to March 2020, it was a toss up between Apple, Netflix and Spotify as to who was the greatest and best known disruptor.
Apple had no business being in music, at least that's what the Beatles said – the Fab Four had set up Apple Corps in the late 60s, Apple Computers didn't incorporate until 1977.
The relationship between the 2 was fraught from the outset and not long after the launch of Apple II, the Beatles Apple Corps filed a lawsuit protecting their name.
The sides settled in 1981 and Apple Computer paid Apple Corps agreeing not to enter the music business.
In 2001 the iPod changed the music industry for ever.
Sixteen years later Apple discontinues the iPod adding features to their iPhone and thus propelling them to the first trillion-dollar company.
Innovation (and the customer) is at the core of Apple.
Netflix's story is well told.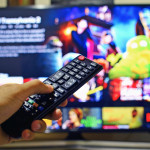 At their peak in 2002 they were mailing 190,000 DVDs out every day as they turned the movie rental business on its head.
Everything going well, they predicted that streaming would replace the DVD player and they pivoted accordingly,
Proving themselves right again they took the view that owning their content AND offering a streaming service would be better than the later alone.
Disrupt and disrupt again.
Thanks to Spotify, my consumption on music went from £100+ a month to renting music as and when I wanted to listen to it. The value of my CD collection has plummeted but from a consumer perspective they made music accessible, immediate, portable and unfortunately ephemeral.
I still have my first 45 – Whiskey in the Jar, Thin Lizzy….cost me £1.74…singles today are 99p
It's what customers wanted – not musicians and songwriters and ultimately democratisation comes at a cost.
Along came Joe Rogan and the disruption of traditional broadcast media.
Upsides and downsides, as always.
How can customer service training add value to your business?
March 2020 brought the biggest disruptor of all.
COVID.
The entertainment, hospitality and leisure industries have been decimated.
Others too.
One could argue that the automotive sector has been disrupted more by COVID than by Elon Musk and with only marginally more publicity.
COVID can be seen as the big leveller or equaliser – if you are still standing after the last 2 years then you have no choice but to change.
"What gets you out of Egypt will not take you to the promised land"
To be a disrupter is to create a product, service, or way of doing things which displaces the existing market leaders and eventually replaces them at the helm of the sector.
Disruptors are generally entrepreneurs, outsiders, and idealists rather than industry insiders or market specialists.
Tech companies don't have the monopoly on 'disruptors' – the best local example I can think of is BLK BOX.
There are others in agriculture, construction – every sector.
The COVID 19 damage inflicted on the retail, hospitality, leisure and entertainment sector as created a behemoth of a challenge for business owners.
Recruitment and retention are difficult.
If you add in Brexit, almost impossible.
I am desperate to support local retail businesses but my experience in dealing with some of the North's best – I won't name names but there are many – goes beyond disappointing.
With the choice of buying something in a shop or going on line, when I telephone the shop, at least make it a good 'user experience' and maybe call me back?
Businesses that weren't customer focused before 2020 are asking for trouble.
The 'simple things' done well in retail will make all the difference – engage with customers, eye contact, sincere and curious conversation, politeness, professionalism, knowledge…
It's hardly scientific or at the level of Apple and Netflix but there is no doubt that in the current climate it would be disruptive.
In fact the less complicated you make it, the easier it is for everyone, then the more successful it can be for everyone.
Back to basics.
Customer service training can help your business differentiate.
Devise a process that works in value creation and value delivery.
Test it out and don't be afraid to change.
Set standards that match your values and beliefs.
Train your staff so that they will represent you to that standard.
Pay them enough so that they will stay and maybe enjoy it.
All the social media and digital marketing in the world won't fix your business if you don't have the basic's right.
Is offering good customer service a courageous decision?
For me it's the only decision.
For more information on how Shift Control can add value to your business through customer service training then please email info@shift-control.co.uk