Facing down Facebook and a wink to nostalgia
"Looks like I picked the wrong week to quit sniffing glue."
                                                                                                       Stephen McCroskey, Airplane
September 2017 I decided to give up Facebook.
It took several attempts to finally close my account the following month. Deleting your account is a complex process and you have to commend Facebook for completely ignoring the UX lessons they so carefully followed to craft the behemoth.
Anyway, it was my birthday in September and I didn't want to miss all those birthday wishes.
That's the truth.
FOMO is a mofo.
It was probably 6-8 weeks after I clicked the delete button that I finally laid my Facebook ghost to rest.
Pre-Cambridge Analitica, I found it all to be a waste of time.
All this talk of fake-news reminds me of that sequence in Reservoir Dos where Nice Guy Eddie, Mr Orange. Mr White and Mr Pink point their guns at one another, each one blaming the other for a blatant lack of honour amongst thieves.
Fake news isn't news.
It always worried me that Zuckerberg was being eulogised as some kind of liberating guru when ultimately he is a media owner.
Media owners do what media owners can get paid for getting away with.
Whilst Zuckerberg is no different to Maxwell, Rothermere or Murdoch, it's a fairly sure thing to say that Facebook much more addictive than The Sun ever was but maybe Facebook isn't really the problem.
A number of research bodies suggest that the average user, spends 2 hours a day on social media – divide that by Facebook, Twitter, Instagram and Linkedin and it was easy to work out that I was an above – average consumer.
Social media feels a bit like Rat Park.
As an iPhone-owning business growth consultant it can be pretty hard to avoid some or all of those channels but over the last month, I have felt a strong urge to change.
A quick inventory check will underline my investment with Apple:
– 1 iMAC
– 2 x MACBook Pro
– 2 x IPad
– 7 x iPod
– 5 x iPhones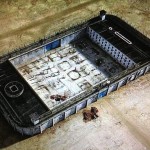 I recognise how vulgar that looks, but each purchase was so easily justified, even if all of the iPod purchases were as a result of failure of the previous model.
I needed a phone that would somehow only be useful as a phone – a simple device to make and receive calls and to send texts.
The NOKIA 3310 had been on my radar as an obvious choice and at £49.99 you could hardly go wrong.
It was a month after the purchase before I tried to make the switch from iPhone, having seen someone else do exactly the same thing.
More fear.
When I eventually plucked up the courage to fully transition, I found that it was ridiculously difficult to port contacts from iPhone to NOKIA.
I decided to manually input the most important and useful numbers I could think – I gave up after 5 minutes having successfully made it through 4 names and numbers.
It's functionality is incredibly limited compared to that of any smart phone.
Call clarity is good.
Battery power is sublime
The phone size and weight is close to ideal.
Distractions are minimal.
So, the perfect replacement then?
Not so.
After day 1 with the NOKIA, I made the following discoveries:
– my eyesight is shocking
– I have fat fingers
– predictive text…fuck…sake…
NOKIA 3310i was not designed for anything other than a passing shot at nostalgia.
It's not a replacement for anything – I made do with the NOKIA 3310i for less than 24 hours.
Within the first 10 minutes of the iPhone reboot, I deleted all social media apps and it then dawned on me then that I was really attached to via the iPhone was music (Spotify), books (Audible, Blinkist), sport (BBC, Boston Celtics) and some fairly useful accounting / business support packages (Xero, Receipt Bank)
For me Smart Phones and social media are one and the same thing but is that like blaming your Samsung 40" TV for the shitness of reality TV programming?
It may be that my problem is less with an irrational distrust and dislike of social media and more of an inability to focus.
Either way, avoid the NOKIA 3310
Oh yeah, and Facebook.
If you can.

Shift Control is a business growth consultancy which specialises in sales coaching, strategy and marketing communications. For more information, email info@shift-control.co.uk