It has been a while since I worked on a PC.
Back when Apple was only a niche computer platform, it was all I used.
With the exception of those who worked in design related industries and those who worked for the Apple, PC was the go to system.
It was the iPod and iTunes that changed it all for me.
When they launched their iPod, I became interested in their technology and quickly moved away from CD and Mini Disk formats.
The design and functionality of the iPod made the cost more bearable and the sheer depth of choice and ease of access with iTunes removed the need for HMV, Tower Records and even Amazon.
I built up a decent library of songs – over 15,000.
CDs were put into storage.
In 2007 I bought my first iPhone which helped to nurture my addiction to downloading music.
As they got smaller, IPods remained relevant.
I bought 9 in total.
Each one promising Apple's brilliance in design and functionality but delivering significantly less than expected – each breaking down for a number of different reasons in and around 30 months.
In that time I was gifted a MacBook Pro – used exclusively for music.
I bought another one – this time for work.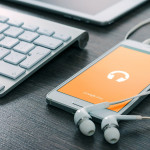 Then an iMac.
Throw in a couple of iPads and 7 iPhones and my Apple audit totals just over £15,000 (including SSD Drives, keyboard for iPad, cases etc…)
Add in the iTunes downloads at 99p each or say £5,00 for 8 an 8 track album – that might be another £12,000
I think that's a pretty decent investment on my behalf into Apple over that period of time.
On the flip side, I have over the last few years noticed a deterioration in the Apple products and whilst I was never big on radical changes in UX or functionality but I was sensing an unavoidable disappointment in product shelf life and increasingly more flimsy lead / connection cables.
Last week the Wi-Fi on my 36 month old iPhone crashed. Battery life at best was 5 hours.
After an online search it became apparent that only a new phone could cure the Wi-Fi problem.
For the first time since I bought my first iPhone, I began looking at the competition.
Neither Samsung nor Huawei would ever have crossed my mind before but I spent a fair bit of time researching the competition.
Buying a new Huawei H30 Pro caused me genuine buyer anxiety – at the point of purchase, I changed my mind twice.
Functionally, it does all the stuff that the equivalent iPhone can do and all the stuff that the equivalent iPhone SHOULD be doing.
It's 25% cheaper and has a longer guarantee.
It's strange trying to navigate the functionality having been used to the  iPhone UX for over 10 years.
After reading Galloway's 'Four Horsemen' I became more wary of Apple.
Poor quality accessories and uncanny timing in breakages have made me less of a fan.
Not paying taxes in Ireland is an outrage but as much of a slight on the Irish Government as it is on Apple.
Recent probes by the Justice Department and the Federal Trade Commission into their business practices has done little to dent share value and it is unlikely that my migration to another provider will do them any damage.
But maybe there are more like me?
Partly what makes the big telecoms and tech companies so successful is the perceived difficulty in changing provider.
Last week my buyer anxiety was real – in many ways it would have been so much easier to stay with Apple.
I reached a point in the customer life cycle with Apple, where the reason to leave was just as strong as the reason to stay.
For me it was a point where everything started to matter.
My conscience weighed in.
My wallet also weighed in.
Past experiences became 'sum totals' rather than simple isolated instances.
Social proof became incredibly important – researching and questioning.
2 weeks later and so far the Huawei has exceeded any expectations – no remorse or regret.
The big challenge will come when I need to upgrade my MacBook.