Episode 16: Sell with Style with Carlo Pignataro
Over the lsat number of years, I have read a few books on sales and marketing which offer great insight, strategy and tactics and that I continually find myself referring to – Chet Holmes, The Ultimate Sales Machine, O'Dea and Daly, Select Selling and David Hoffeld, The Science of Selling, to name but three.
Right up there is Sell With Style: The Ultimate Guide to Luxury Selling by Carlo Pignataro.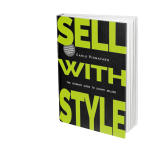 I got on to Carlo through Aidan McCullen's Innovation Show Podcast, bought the book and read it in one sitting.
In Episode 16 of the Shift Control Podcast, I got the opportunity ( and honour) to discuss the book with Carlo and how those insights can be applied to your sales and business development activities.
Carlo is an author, consultant, trainer and coach and has worked with some of the top names in luxury – the book is rich with valuable insight on personal branding, the importance of "perceived" value and the importance of language.
Carlo is already working on his next book Service with Style – looking forward to it already.
Enjoy the podcast here on Soundcloud – also on iTunes