The T-shaped Skillset and sales training courses
The T-Shaped skillset and sales training courses
I must have been sick the day we were taught about T-shaped skills at school.
Back in the day, learning and career options were limited.
It would be easy to blame the careers department but society, peer and family pressure meant that career paths were incredibly limited in the mid 1980s.
Faith and belief were also in limited supply back then.
Medicine, Dentistry, Law, Accountancy, Teaching, Farming or the family business were the career paths that chose themselves back in the day.
There wasn't much talk about the conflict that exists between generalising and specialising.
Try being a marketeer today  – businesses want a Swiss Army knife equivalent or some kind of marketing unicorn to perform the diverse range of skills that populate the narrative of most marketing job descriptions.
Unrealistic expectations from business owners allied to "Walter Mitty" styled CVs means that often one or both parties end up disappointed.
There isn't much wrong with being either a specialist or a generalist.
If you have a sore back you might go to your GP (General Practitioner) but you will most likely want to end up in the hands of a spine specialist or a physiotherapist.
I remember an old marketing case study on Qualcast versus Hoovermower  – you want your grass cut quickly or do you want to replicate Croke Parke in September (or December).
With a T-shaped skill set a person is not only an expert in one relevant field but also extremely capable in a range of other relevant activities.
Is there such a thing as a sales generalist?
Dutch footballer Johan Cruyff invented 'Totaalvoetbal' – the idea that any outfield player could play any outfield position and perform at the highest level.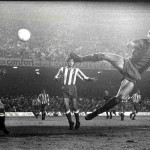 Cruyff, given his stature and status usually gets the credit but the roots of Total Football can be traced back to a man called Jimmy Hogan from Burnley.
Hardly glamorous and if you take a look at the number of teams that have succeeded through playing total football, you don't need both hands to count.
Ajax and Barcelona in the 1950s and 1960s and more recently Barcelona under Pep Guardiola.
When it works, Total Football is awe-inspiring it just doesn't work often enough.
What defines a sales specialist?
Sales skills are typically defined by the business needs and the industry type.
A good SaaS sales person is not guaranteed to make a success in BioPharma.
The journey from car sales to estate agent is a tough one.
A good telephone sales person is not guaranteed to deliver in front of the boardroom C-suite team.
A business development executive might require greater resilience skills than an accounts manager.
There are no guarantees that a sales expert for company A can make the grade in company B. Total Football
If you have a 'Generalising Specialist' within your business then you would do well to keep them for sure – go looking for one and I sense that you will both end up being disappointed.
That's why when we offer sales training programmes and courses we don't believe in creating space for people from different companies, never mind industries.
Book one of our sales training courses now
Our sales training courses have been developed to cater for specific needs and requirements. For developing specific behaviours in line with business objectives.
We offer sales training courses tailored to the specific needs of your business, organisation, team or individual.
Now we offer online sales training courses because we know that the technology and delivery platforms are available to do so.
As always how effective the training is depends entirely on the attitude of those attending the sessions.
To find out more about our online sales training courses or other training courses please email info@shift-control.co.uk in the first instance and we can arrange a Zoom/WebEx/Skype call.